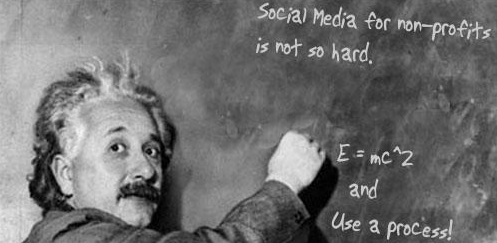 As a web design and hosting company, productivity is critical as it is in many sectors including nonprofits. A couple of years ago, I realized that we had a limited amount of production we could provide without hiring more personnel. We faced the challenge of what many small businesses face with thresholds of production. To increase the efficiency of our company, we had to develop suitable processes to improve productivity (and reduce stress!).
Many nonprofits face that same challenge regarding limits on how much that can be produced in a single day, due to budgetary restrictions, and in some cases, regulatory requirements.
When working with online marketing, production is imperative, especially regarding social media. In some cases, companies have dropped or reduced their efforts in social media due to the lack of return on time invested. With nonprofits, reducing the time spent on things like social media can be critical. To reduce the time spent and make it more efficient, the first thing that we need to do is classify the types of communications that go through social media and online marketing.
News and information. The category Includes news about changes to the way that the organization operates.
Regulatory or bylaw changes. This includes information

regarding

changes to the way the organization runs or changes that may directly impact its members, subscribers, or clients.
Events with the organization. The category covers news about any events that are occurring within the organization or that the organization may be participating.
Personnel or staff changes. The people who are hired or promoted within the organization (e.g. Sandy Smith is the new Executive Director).
News from other organizations that are related to the mission of your organization. The category includes any news or events that another organization may

provide

that is directly related to your mission and the work you do in the community. I have noted over the years that some organizations lose focus on the news that they

provide

and may cause members and visitors to lose interest or even worse, navigate away from what your organization offers.
Ask for donations. The opportunity to ask your members and visitors for funding and should not be done too frequently because of annoying your audience.
Now that we have classified all the information that you will be distributing through your social media and your online marketing efforts, we can create a process for assigning days of the week for posting online with each of the categories.
What we are proposing is that a nonprofit (primarily a small to medium nonprofit) will use the worksheet and post a minimum of one time a day on social media like Facebook for example. Because the information is categorized to keep a laser focus on the mission statement of a nonprofit, it makes the social media and online marketing communications much more organized. It keeps things simple and maximizes productivity. The beauty of using this process is that it only takes a few minutes to setup and only a few seconds to complete.
You can fill out the worksheet on the Friday before or even early on Monday morning of the same week that you are using it. You can then pick out one category of information per day and add it to your worksheet and, since there are six processes, if the entire worksheet is full, you can post two things on one day. You can also switch up the days that you enter the different categories, so Monday I may want to do an ask for donations while Tuesday I may want to announce what a related organization is offering or is doing in the community. If you are having difficulty with filling some of the categories on the worksheet, you can add posts in the same category (only do this if you don't have any other choice). While this worksheet takes a tiny amount of time to fill out, it solves the problem of "what is my nonprofit going to post on social media or online outlets for today?". We might add that you may need to post something on rare occasions that is not listed in one of the above categories. These things may include some type of significant news event or crisis on a state or national level.
We are including the worksheet for scheduling your information and assigning dates to communicate each category. The worksheet also includes what we feel is the best method to post. The worksheet can be downloaded here.
The value of performing this method of communication is creating a very simple process that you can use within your organization to communicate through online advertising more efficiently. You no longer have to panic and try to figure out what you are going to post on your social media because you can now automatically know on what date that you are going to post a particular article of information.
I know most of you don't like to blog. However, it is relatively easy to post many of these categories into a simple blog post (even as few as 125 words minimum) and place it on your website. Making blog posts a part of your process ensures that your members and visitors are focusing on the information that is located on your website, and not another entity's organization causing you to lose a possible donor or member.
The best part about implementing a process such as this one is that it is performed quickly, and you can start immediately, alleviating stress in many cases and making your life much easier.
If you need assistance with setting up this process, or you have questions regarding web design or web hosting, please feel free to give us a call at 402-813-4034 or fill out the contact form.